History
DR PARADISE was founded in 1998 , for the founding partners Carlos José Bruno and Bruce Pierson, is a real estate company with over 18 years of experience whose scope it is being sent to property management specialists, legal, financial, construction and else.
We have extensive experience in the market and a variety of properties and clients nationals and internationals. Our listings includes properties in all over the country, sale of plots, construction of family homes, resorts, apartment buildings etc.
Within our team PARADISE DR has specialists in each of the branches estate agents, also counting project developers in the technical part and the preparation there of.
Dr. Paradise aims to offer all services in the real estate field guaranteeing personalized customer investment, providing advice on all the processes involved in buying a property.
Las Terrenas
is an exciting Dominican town with a strong U.S./European (French, Italian, German) ex-patriot population. It is located on the Samana Peninsula, with some of the most beautiful beaches in the country.You can walk for miles along gorgeous palm trees beaches with delightful small hotels and condos…no High rises! Great local and European cuisine, exciting night life, lots to do!
Activities in the area:
The Samana Peninsula has miles of beautiful beaches, with gorgeous Lomas (hills) running down it's center. Spectacular views! The Samana Bay is a sanctuary for the mating and birthing of Atlantic humpback whales . There are horseback excursions to the impressive Limon waterfall, all manner of watersports is possible,nightclubs and dancing (bachata, merenge, salsa) to keep you hopping, and excellent local and European cuisine to delight the most tasty
night dishes. There is a small sailing club right down hill where you can have lunch or rent a boat.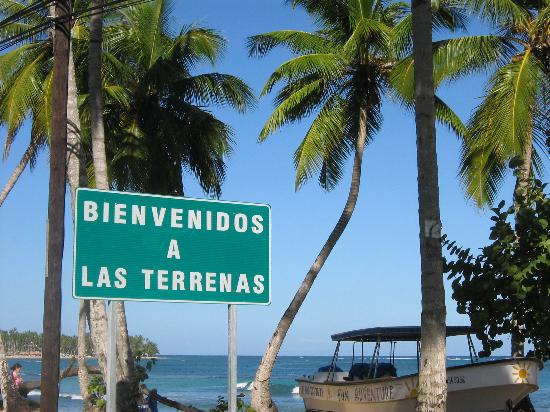 Airports: We fly into Santo Domingo (SDQ), and drive the 2 1/2 hours to our home. The majority of the trip is on a new highway that takes you through palm plantations, the mountains of a national park and rice paddies. The last section is through local towns with spectacular views of the Samana Bay. Another option is to fly into Santo Domingo and take a commuter flight directly to Las Terrenas. We are 45 minutes from a new airport Samana 'El Catey' so check for flights there first.Golf: We are about 1 hour up the coast from a beautiful golf course at Playa Grande. Other Activities: Kite boarding Walk to 4 beaches, swimming, surfing, snorkeling, Kitesurfing, scuba diving, fishing. 20 minute walk along the beach to town. Excellent local and European cuisine. Exciting night life…music, dancing, casino. Excursions… whale watching, El Limon waterfalls, fishing, scuba diving. Lots of local color in this vibrant Dominican town. Rental of a quad/all terrain vehicle recommended to explore the area and for evening trips to town.